Gram refrigeration
Gram refrigeration is the most promising brand in the world of commercial refrigeration. They are in this field since 1901. Hans Gram creates the company, and it was at first famous for manufacturing machines and electrical installations. 
But after 7 years it starts its manufacturing in refrigeration equipment  for use in the dairy industry. Since then, they are leading in the market of freezers and coolers. And today Gram Refrigeration is one of the major manufacturers in the food service equipment market of Europe. 
The target of their freezers is mainly commercial kitchens. So if you own a bar or restaurant, an ice cream parlour or bakery, then try their highly efficient fridges. They also manufacture freezers suitable for storing medicines and medical equipment. 
So for the hospital, child care centre, or nursing home usage, you can completely trust in Gram Refrigeration. Let's check some of their products for more information.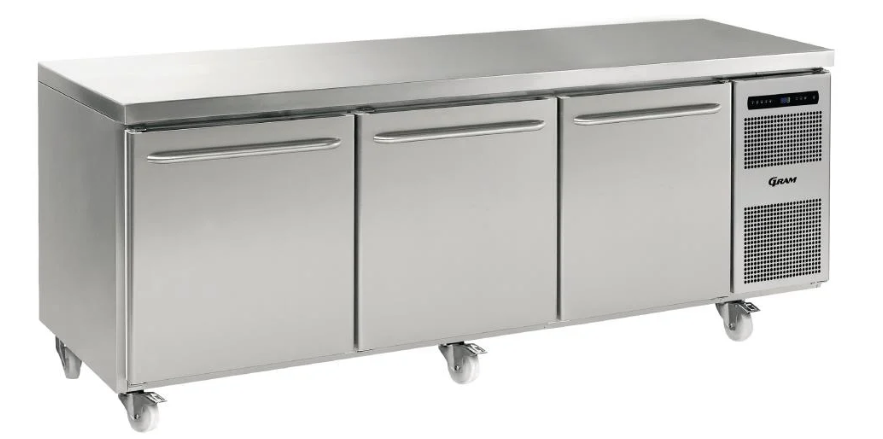 Snack Counter KS 0-6 H: Best for a Ready to Eat Seller
If you run a fast-food counter or an ice cream stall, then you need to have the freezer close to you. You cannot go on searching items again and again while preparing the food. Thus a snack counter freezer is extremely useful in such cases. 
Gram commercial refrigeration builds this exotic freezer cum snack counter so that you can get the chilled food without moving from the bench. In this model, you will get refrigerated counters to combine with modular cooking appliances. 
The counter has 6 drawers in 3 separate rows. This design is especially for busy caterers who require quick access to fresh and chilled food items. The body is of solid but smooth stainless steel material. So it is shiny but rough and tough to take the pressure of a busy fast food or instant food stall.
SBU20HTE Blast Chiller: For a Blast in Cooling
A blast chiller is extremely useful in preserving meats and fishes immediately. It uses unique fans inside to blow chilled air in the meals and make it cool instantly. For heavy-duty restaurants and hotels, it can be a perfect companion. 
Gram Refrigeration manufactures 2 types of blast chillers; SBU20HTE blast chiller and SBU40HT blast chiller. The second one is larger than the first. You can choose any of them according to your requirements. 
The stainless steel design gives it durability and a smooth texture. It is also effortless and tireless to clean the chillers as the hinged fan cover panel provides easy access to you.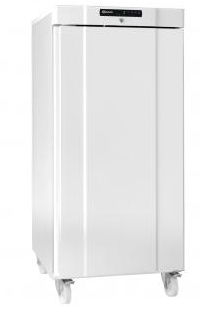 Baker M 625 LCH 20B: Your Baking Partner
This model by Gram Refrigeration is especially for bakers. This has 20 pairs of adjustable supports to keep your freshly baked cakes, and cookies retain its freshness for 4/5 days. It has the right hand hinged reversible door with an automatic door closing and lock system. 
It has an automatic defrost and defrost water evaporation system for smart cooling. The dry cooling and rapid thaw technology will prevent creating ice flakes above the cakes and other stuff. The entire body is of stainless steel so that the cleaning job will be very easy for you. 
The 20-pair of support rails are also removable and cleanable. So if you are a bakery owner, then get this one for your shop for the effortless baking experience.
Marine Midi FG 82 CCH 4M: Your Water Companion
A marine refrigerator is essential for an onboard vessel or ship. To preserve food and drinks or even cargo and garbage for extreme conditions, one needs a marine refrigerator in a boat. Excellent quality and well-maintained food and beverages are essential for the good health of the onboard passengers and crew members. 
Especially the cargo ships are completely dependent on high-quality marine refrigeration equipment and air conditioning. Their primary motto and business are to assure the quality of the cargo during transportation. 
The gram refrigeration marine range is specially designed for the critical and demanding conditions of an onboard kitchen. It has some environment-friendly marine features like sturdy yet adjustable fixed feet, stainless steel body and shelves, and a dedicated, positive locking handle. 
The control system conceals behind the top panel to protect it from splashing water. To avoid movement in the sea, the shelves fit by the guide pins. The shelves also fix to the shelf support to ensure zero movements. 
Thus, the gram refrigeration marine range is pushing its competition away with its smart technology and efficiency. 
The Bottom Line
All these Gram Refrigeration freezers and coolers are modern in looks and style but experienced in performance and reliability. They are energy efficient and provide you with all-time support. So visit their official site or their showroom near you to get your smart cooler now.